Be still my beating heart - I love them already
The man was a bit odd (kind of unwashed and odd
) but obviously loved his chickens as he wanted to make sure I'd got little feed for them and wasnt' going to give them feed with whole bits of corn in it
He took the box inside (I think he had them in the house) and go them so I didn't get to choose but the only thing I was wanting was a clean looking Sussex with only black dots around her neck and I got that
They cheeped all the way home on and off and when I stopped to get C I checked on them and I think the bigger one was pecking the little ones a bit but not too bad. First peek of them: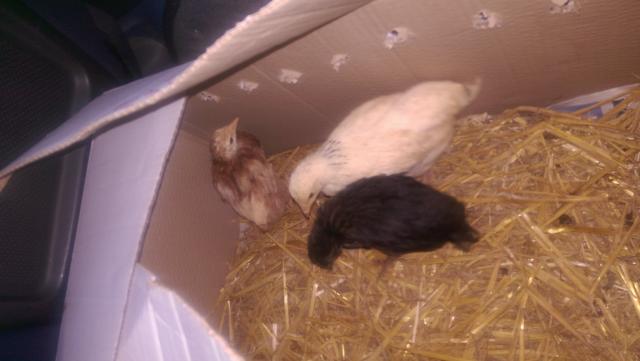 When I got home I put the new shavings bedding in the little coop and the water and food:
Rémy was beside himself with joy and talking to them and trying to peep
while I was sorting it out (although he did help too):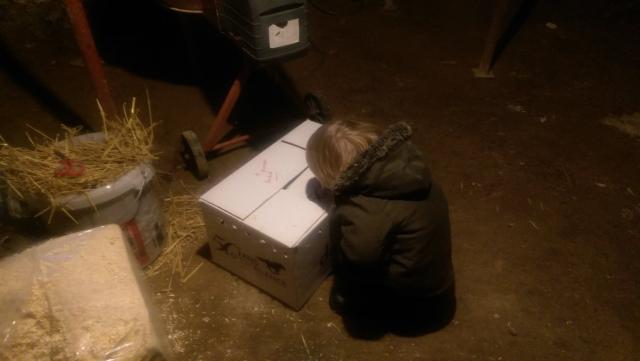 I then cut a hole in the box to let them come out when they were feeling OK and not scared and put the whole thing inside the coop. Mabel (the bigger Sussex - 6 weeks) was brave and came out first
She is very cute and still slightly yellow tinged: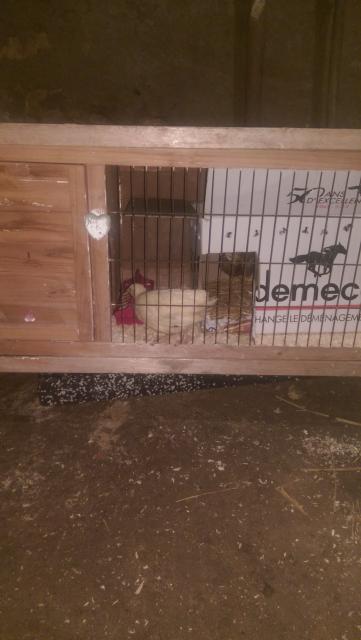 The
harco
scrap that I just zoomed in and it is the red was next to start peeping out: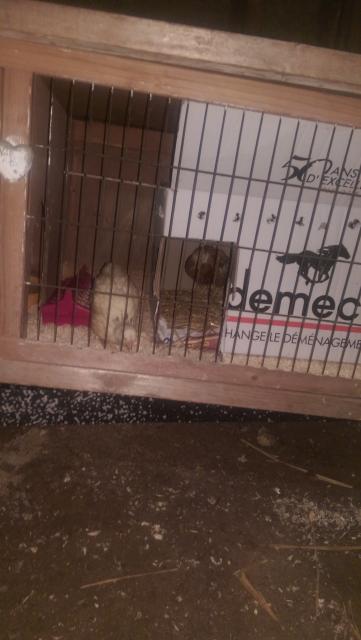 At that stage I left them for 1/2 hour or so to calm down and not have a bouncing preschooler. When I came back they were all out and happily eating and drinking
which from what I have read is the most important thing if they are not too stressed etc.
There are a couple of things that are stressing me out a bit is that their water is all messy already so J has quickly made me a nipple waterer but they won't know how to use that so need to somehow get it up off the floor
am going to go and take it off them now actually while I work something out just thought it could choke them.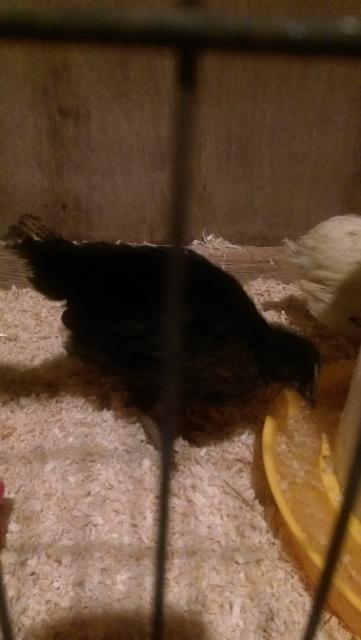 The other thing is that they are pecking and scratching everywhere and pecking at the plastic base - is this normal or do I have weird chickens already
?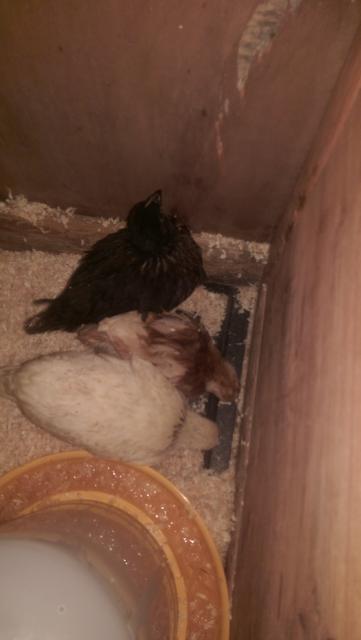 The last couple of pics were taken another 1/2 hour or so later when I took Louis in when he came home, I picked up dear little Clementine first and she was so sweet, didn't mind at all
then I picked up Mabel (crazy the difference a week or so makes to thier weight!) and she was fine about it too but maybe a bit more bolshy but the little harco was a bit scared and panicked a bit. So interesting as that is exactly how the coming out of the box went as well - I wonder if thier personalities are coming out already? I'm going to keep picking them up every day to get them used to it so they are lovely and tame for us.
Gutted I didnt' do this 2 years ago when I first started talking about it