He's potty trained in the day but still wets a little bit at night. He was wearing Tesco's pull-ups but now I have built up a good stash I decided to try him in cloth at night.
First I tried my Slinki Minki - he loved the sheep pattern but when I tried to get his jammies on over it he declared 'I no like it!' and took it off pmsl!
So I think it felt a bit bulky and tried an FB instead - it looks fab on him lol! Really suits his shape and looks really trim (more so than they do on chubby Flynn)! It's almost a shame he trained before I got chance to put him in cloth in the day pmsl!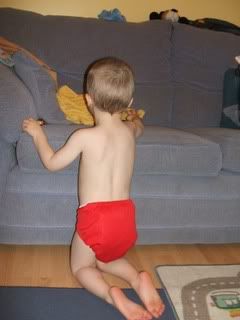 So fingers crossed we don't have any problems tonight!
Problem is Flynn wears FB's most of the time so I may need some more lol!
Update

It leaked!
Clearly he wees more than I realised!
But he didn't wake up from it lol!

I'm not sure what to do tonight - I don't want to be defeated and go back to the pull-ups! Should I try the FB again with some boosting? I don't want to risk using a Minki and him taking it off in the night and the only popper nappies I have are FB's and PB's.

I hope he didn't wee more because he had a nappy on rather than a pull-up? I don't want to send him backwards?!