Manufacturer: Bottom Bumpers
Wrap Name: Bottom Bumpers One size
Type of Nappy: All in one
Fastener: Snaps
Material: PUL outer lined with organic cotton. Organic cotton insert
Size: OSFA
Reliability: 9
Absorbancy: 9
Cuteness: 9
Drying Speed: 8
Slimness: 10
Value for money: 10
We received our BB from Funky Monkey Pants yesterday. Obviously I put it straight on Eddie without a prewash
The first thing I noticed was that it is sooooo slim. Eddie is a chunky boy and often a cloth bum makes him look huge and trousers often don't fit. We had the opposite problem with the BB, his trousers kept falling down
Eddie hadn't drunk much so hadn't wet much but after 3 hours I was impressed with how absorbant it was without prewashing.
What I like most about the nappy is that The rise snaps are inside the nappy at the back. This means that there is no bulk at the front making it difficult to learn to sit etc. I will get some pictures once the nappy is dry. The snaps are really good quality and tricky for little fingers to undo, especially as the nappy is side snap.
The prints and colours of the nappy are lovely and bright. I would like to see more prints available though as there are only 3 polka dot options at the moment, red, aqua blue and pink).
The insert is topped with a velour style fabric which I guess is cotton velour. It's lovely and soft, very strokable. The insert snaps in at the back of the nappy and has 2 flaps so that it can be separated for drying. One thing I would like to see is a size 1 insert and a size 2. When I took the nappy off, the insert was quite low at the front so it meant that there wasn't as much absorbancy at the front as there could be, probably not as much of a problem for girls though.
The highest rise was brilliant, Eddie (14kg and super chunky thighs) has plenty of room. I am sure that this will last him until he potty trains, we are selling our other b2p nappies as they no longer fit! I will be trying the nappy on my super skinny 9 week old once it's dry so will come back and add comments for the lower range soon.
Overall, I am really impressed, I will definitely be ordering more.
Edited to update with my thoughts on the smallest setting:
I quickly popped in on Oscar whilst I was changing his nappy (poor boy, it wasn't even dry!
).
This is the only btp that I have ever tried that I am fairly sure that most people could use from birth. Oscar is still on the smallest snaps on all nappies including his blueberry mini coverall, in other words, he has the same size waist and thighs as a newborn. The BB is the only 'big' nappy that fits well around his thighs. I would be pretty confident that this nappy would be fine with wees but I'm not convinced that it would contain poo until his thighs chub up a tiny bit. There's no major gape but it isn't a snug fit. The good thing is that the rise is good so I won't need to up the rise for a while so his thighs should fit before the rise is too short, unlike many front snapping brands. The rise would be high on a newborn but the fabric is very soft and flexible so it shouldn't be too much of a problem.
Now to put my order in before real nappy week ends.
Rise snaps inside the back of the nappy.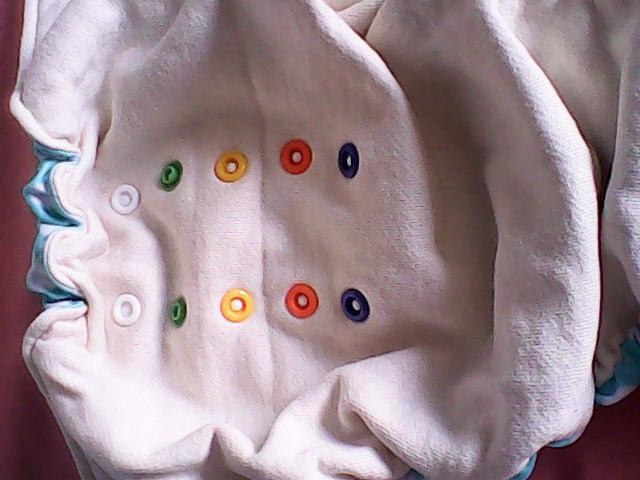 Rise snapped to the smallest setting.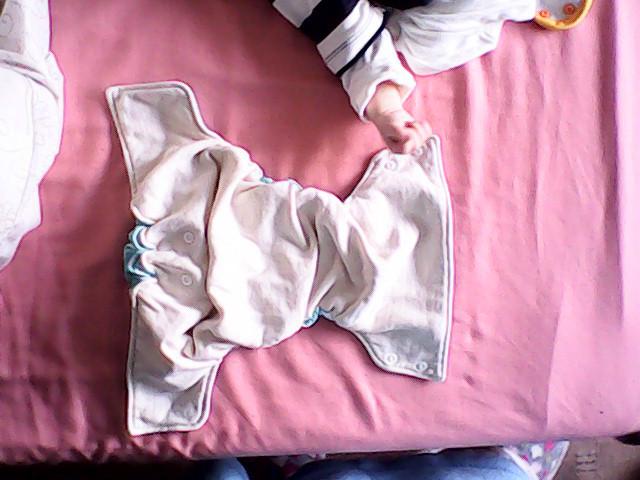 Insert snapped in