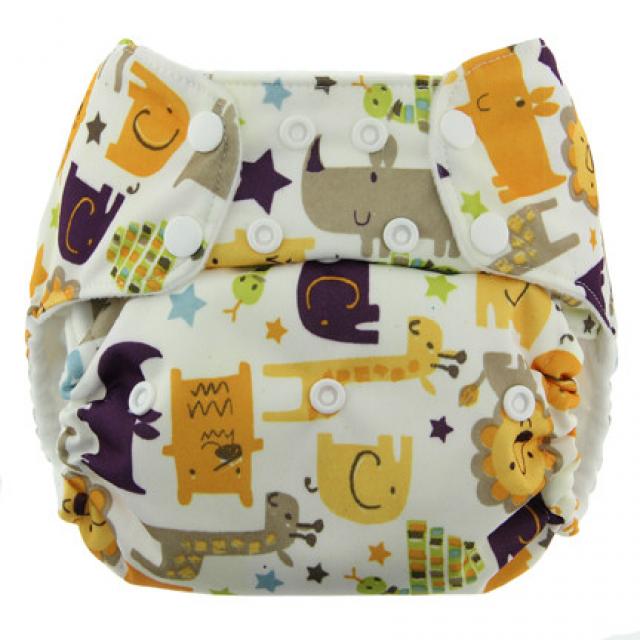 Manufacturer: Blueberry (was Swaddlebees)
Nappy Name: Simplex
Type of Nappy: AIO
Fastener: poppers only
Material:pul with organic cotton
Size: One Sized or Sized
Reliability: 10/10
Absorbency: 8/10 (but room to add more boosters if needed)
Cuteness:9/10
Drying Speed: 8/10
Slimness:9/10
Value for money:8/10
Overall Comment:
Highly recommended But has some big issues
Detailed Comments:
I love these nappies, they are very very slim with lots of cute designs or solid colours to choose from. The sized diapers have stretchy tabs at the side which really help to make the size last a bit longer. BUT the material they are made from does have a tendency to wick, but only at the point when the nappy is saturated (and you'd hope you'd change before that point). The sizes are very generous, and its better to size down than up. The large is supposedly for 25-35lbs, and my 31lb chunker is only on the second snap. The stretchy sides also mean that they can be pulled on like a pull up for big kids.
The one sized diaper doesn't have the stretchy sides, and the size guide is probably more accurate. Like all one sized diapers poppering the nappy down does mean its a bit bulkier.
Major negative - the organic cotton does wear fairly quickly by getting holes in it. Apparently tumble drying and frequent washing are the major causes. I'm not sure if Blueberry (an American company - and the nappies are all US made) thinks that most people have VERY large stashes, but when I contacted them about the wear on my nappies they said that frequent washing of any cotton product would lead to holes. Mine get washed 3 times a week, according to Blueberry this is too much. So the only obvious answer is to buy more!
In summary, I love these nappies, they are reliable and slim and cute. I just wished they didn't develop holes. But this doesn't seem to affect the re-sale value at all.