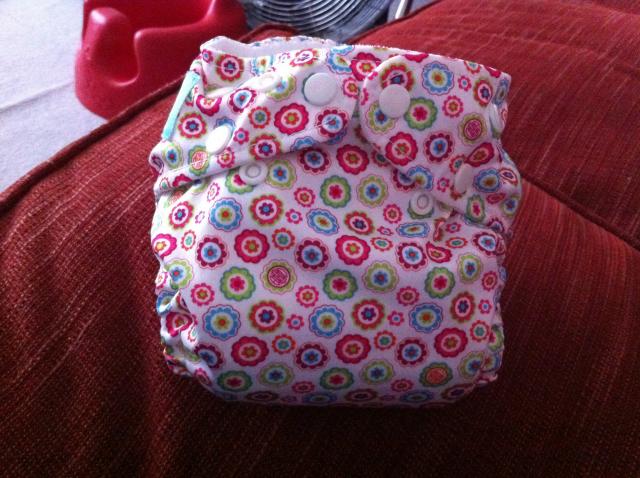 (Nappy pictured on 2nd medium leg setting and 2nd tightest snaps)
Manufacturer: Charlie Banana
Nappy Name: Charlie Banana One Size
Type of Nappy: Pocket (but sort of hybrid)
Fastener: snaps
Material: PUL outer, fleece inner
Size: OSFA 6-35lbs
Reliability: 10/10
Absorbency: 6/10 with CB Microfibre but presumably much higher if I had their hemp inserts
Cuteness: 9/10
Drying Speed: 10/10 for both shell and Microfibre boosters
Slimness: 9/10
Value for money: 8/10
Overall Comment:
Highly recommended
Detailed Comments:
Fit & comfort: This is a OSFA pocket nappy with a difference... Instead of adjusting the rise with snaps on the front the nappies are adjusted by tightening / loosening the leg elastic using a sort of bra strap system.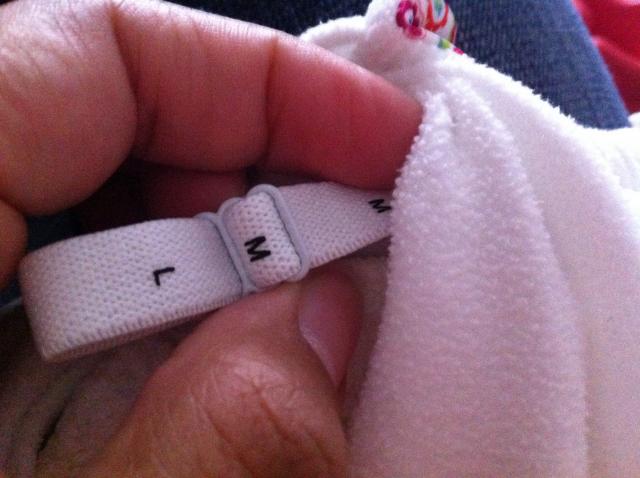 The elastic is marked with 7 intervals XS - L so it's easy to ensure the two legs are the same and you can gage the size that's right for your baby quite easily.
When I first bought these nappies (I have 3) I found the elastic adjustment very fiddly but by the time I needed to readjust them it already seemed really easy (I think it was more to do with feeling confident with cloth nappies in general).
I love the leg elastics now, it means the nappies fit the legs really well through the sizes (I've used them from about 10lbs - 18.5lbs so far and managed to get lovely fit the whole time) and once you've set the size you can leave the elastic until baby outgrows that fitting. On an aesthetic point it also means there are no additional snaps on front of nappy and patterns are not distorted when on a smaller size (if you know what I mean).
On the down side it did mean there was a lot of nappy when she was smaller so bum was quite big, but no bigger than with any other BTP nappies I tried and I think fit the best.
The fleece lining inside is still lovely and soft (been using since 7 weeks and she's now 5.5 months) and so far hasn't stained at all (even with bf poo).
The band around the legs and back of the waist is nice and wide which seems very comfy and has been fantastic for containment (don't think we've had any leaks so far).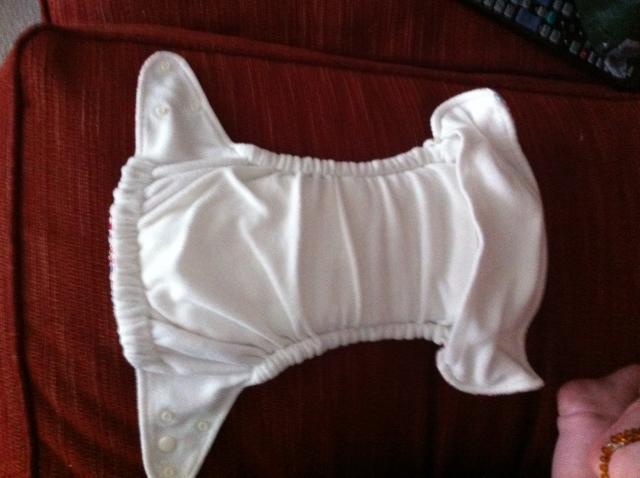 Pocket design: The pocket is very wide and unusually situated at the front which has proved to be a great idea as you don't end up with poo on your hands when taking out the insert after a particularly messy explosion (sorry if I've shared too much). I wish my other pockets had this too as much nicer.
The pocket is also designed with fleece panel right the way across (badly described but hopefully clear in photo?). This mean no poo can gets inside the pocket at all and enables you to place one of the Charlie Banana biodegradable disposable inserts on top of the fleece and be held in place by the flap. Then you just change the insert rather than whole nappy (that's what makes it sort of a hybrid). I haven't tried these inserts so can't comment how good they are, I think the idea is to be handy if traveling etc. I've seen them for £10.99 for pack of 32 so you wouldn't want to use them too regularly but handy if you know there won't be a washing machine where you're going, or possibly have a nursery that won't accept cloth nappies (they may compromise with disposable inserts).
Inserts: The nappies come with 2 Microfibre inserts, 1 for the small and x-small settings and a larger one for medium-large settings. For me this is the only negative as I have a heavy wetter so Microfibre just doesn't really cut it for us! I now just ignore the inserts they came with and stuff with other bamboo and hemp ones instead, which is no problem as pocket is large so fits all sorts. Having said that I recently saw Charlie Banana do their own hemp inserts which can be purchased seperately so with these I imagine my absorbency rating would raise to a 9 or 10.
Overall: I love these nappies and would get more if I could justify it. They have some lovely prints for girls and boys and wonderful vibrant colours for the non-patterned ones. For a BTP the fit is fantastic and seem so soft and cosy.
They're not the cheapest but by no means the most expensive, if you're looking for a BTP pocket they're well worth trying in my opinion!