Made by:http://www.potbelliedpigdesigns.ca/
Fastener: I have side Snaps but they also do front fastening snaps.
Material: all pockets pul backed but loads of options for outer and inner, eg minkee,fleece cotton. I have mix of minkee and cotton.
Size: m/l which is now there new medium size. Available in s,m and l
Reliability: 10/10
Absorbancy: n/a depends what you stuff it with I have used various different inserts and never had leak
Cuteness: 9/10
Drying Speed: 6/10
Slimness: 7/10, bit puffy for my liking
Value for money: 7/10
overall comment: If you are after a fancy nappy for a chunkier baby then this is for you but I wouldn't have them as main bulk of stash as for me there is better options out there.
Detailed comment: I have 2 of these nappies, one minnie mouse on red/purple minkee with dalmation inner the other lime green with multicoloured hand prints on both are meant to m/l but they are different sizes but they were bought preloved so may of been bought new at different times. I find them to be on the big size for what they are meant to fit but despite this, I have not been let down by them we do have a bit of leg gape, despite Roxy having chubby thighs but nothing escaped. I love the fact that if you are buying new the possiablites are endless and if you are no good at thinking of designs there is plenty on the gallery to look at for ideas. They don't come up preloved that often but are quite pricey when they do as quite pricey new for me a some of the other wahms is better value though these fit slightly better. I found them very slow drying compaired to my other pockets taking the same time as some of my fitteds to dry due to the cotton design on top of minkee.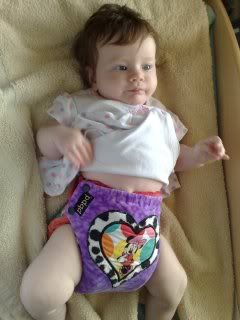 she is 13 wks here and about 13lb