Manufacturer -
Wild Child
Nappy Name - Side Saddle
Type of Nappy - AI2
Fastener - Side Snaps
Material - Minkee
Size 1
Reliability: 10/10
Absorbancy: 10/10
Cuteness 10/10
Drying Speed: 8/10
Slimness: 10/10
Value for money: 10/10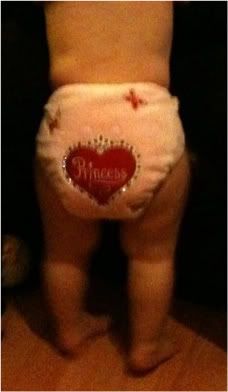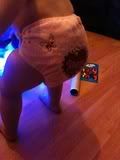 I have a OOAK Side Saddle in a size 1, my LO is 17 months and is on the last 2 poppers on either side so i will need to size up soon.
The fit is lovely, it reminded me of a little pair of knickers
and whereas the size 2 workhorse buries my LO, this is a nice fit, and i will happily buy a size 2 in it.
The inserts are the usual WC piggyback boosters where you can add/take away quite easily, we never had to add to it and it lasted a good 4 hours
Pricewise, for a plain side saddle your looking at about £20 without postage from aus, for a OOAK its more like £28 without postage from aus, but they are fab nappies and i do think their worth it.
Cutewise; if you get a custom OOAK you can have what you like, ours has princess embroidery on and butterflys and diamantes on so its all sparkley
Drying: the outer is pretty quick to dry, the boosters can take a while longer but usually in an airer over a radiator their dry by morning