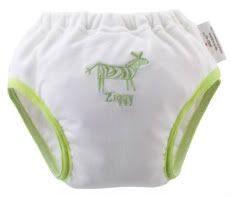 Manufacturer: Close Parent
Nappy Name: The pop-in Cosy Fit Training Pants
Type of Nappy: Training Pants
Fastener: none – pull up
Material: Soy velour with a microfibre core, PUL layer and Tencel (man made fibre from renewable plant materials) outer.
Size: medium
Reliability: 10/10
Absorbency: 10/10
Cuteness: 8/10
Drying Speed: 9/10
Slimness: 10/10
Value for money: 6/10.
Overall Comment: Recommended
Detailed Comments:
Training pants are by no means a necessity but we wanted to try them with DD as she was starting to refuse to have a nappy on.
Lovely and soft inside next to her skin and she definitely knows when she wees in them. She loves the little animals on the front and it distinguishes them so I can give her a choice of which to wear. They dry reasonably quickly although I'm not sure how long they'd take indoors on non sunny days. They aren't crinkly like other training pants on the market. They seem to be pretty absorbent as well and I think they'd hold a whole wee although DD is usually trying to pull them down at the first trickle. They're also very slim.
Poo containment is good, I discovered after not getting out the shower quick enough when she shouted
They're a bit of a boring colour although they come with either bright orange or bright green trim which is nice. They are hard to pull up or down, where I feel DD would manage pants ok the strong elastic around the waist and legs makes these quite tough for her.
At £19 for two pairs I think they're quite expensive but would be a good option when you think it will take longer for you to find a toilet or in the car to help protect the seat as they are still very much pants and not a nappy.
Be warned these size quite small, if in doubt size up!