My pile of courgettes on the bench is growing (and I'm guessing those of you with gardens may be the same!) so I thought I'd try a soup which is apparently much made here in France to get rid of my largest monster one! It was crazy easy and is really yummy.
1 onion
2 cloves of garlic
Courgettes
2 chicken stock cubes
1 tsp tumeric
1 tsp cumin (although I must admit I'm not 100 % sure that it wasn't coriander as it is in an unlabeled tin
)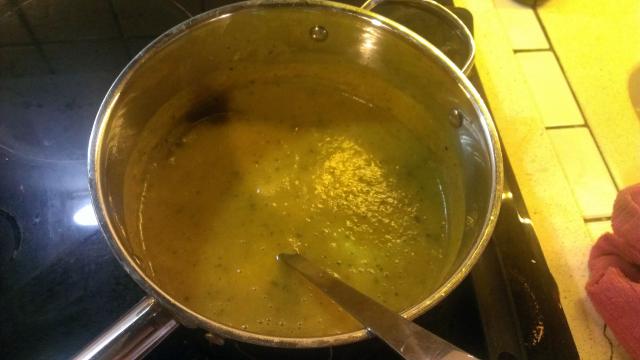 Finely chop and sautee the onions in some butter and olive oil the add the crushed garlic. Make sure you have a good sniff - is there a better smell than onions and garlic frying in butter
? Chop up you courgette (or marrow in my case
) - it was probably nearly 1kg but didnt' think to weigh it - 3-4 medium courgettes maybe? Just wing it girls - that is what I do! Chuck it in your pan and just cover with your chicken stock (I made it up in a jug with boiling water). Cook until just soft and then put your stick blender thing in give it a wizz and voila! I thought the tumeric was slightly strong but then I added a spoon of creme fraiche into my bowl and OMG it was just perfect!