A few people asked about wraps for prefolds, I have 3 weehuggers,4 thirsties and 1 flip that I'm using so here is a quick comparison for anyone who might find it useful. Apologies for small pics if you click on them they will go bigger no idea how to resize etc
Honey is a medium to heavy day wetter and we use these all day sometimes at night, with no problems changes from 2-3 hours.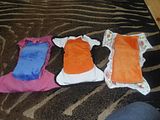 L-R flip, weehugger, Thirstie, this is the inside view of them ready to be used,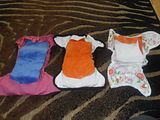 This is after they have been closed and reopened as you can see the thirstie needs readjusting as it doesn't have the flaps to hold the pad.
This is the front view all medium rise setting all stuffed with either a bamboo velour pad folded insert or bamboo fleece or a Thirstie hemp pre-fold.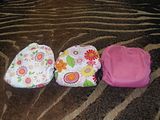 back view. I'd say a thirstie has a higher rise and is wider than the flip and weehugger. The weehugger is the slimmest between the legs but also lowest rise so the trimmest option IMO, The flip is quite wide and also has a good rise.
Thirstie
,
Prints are fab nice and soft leg bindings and outer material the prints feel softer than the solids dries very quickly seems to be wickproof and roomy enough for fitteds or traditional prefolds. RRP £8.75
Flip
Only comes in solids is not as soft as the others is more plasticy feeling, but fast drying and roomy enough for different types of prefold. RRP not sure as this was preloved

Weehugger,
Very soft outer and leg bindings the flaps are also cotton so everything that touches the skin is soft, the softest out of the 3.
quite a trim fit so best used with a modern prefold like a eco earth bamboo velour or thirsties hemp or the weehugger inserts takes longer to dry than the other two. RRP £13.50 ish
Overall
Flip is great and perfect easy to use fast to dry but not something I would choose to buy new as I think the Thirstie is a great alternative for a softer outer and better price range. Weehugger is fabulous but you would need a few more if you were using full time to compensate for the slightly longer drying time which isn't long but a few hours longer than a Thirstie but for me a mix of weehuggers and Thirsties work great I'd buy more weehuggers if they weren't so hard to get hold of
but would still buy Thirsties too especially if they bring more prints out
HTH and hope I've put it in the right place