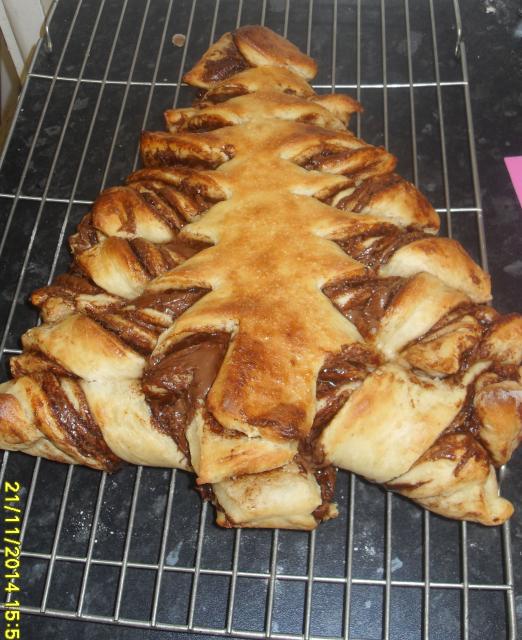 Ingredients
500 g bread flour (sifted)
60 g sugar
2 Eggs
180 ml milk
30 g melted butter
1 7g sachet yeast
jar of Nutella
2 tbsp milk
Put flour, yeast and sugar into a mixing bowl, mix well.
Add the eggs, milk and melted butter, mix, then knead for 5-10 minutes.
Put dough into a bowl, cover with cling film and leave in a warm place until the dough doubles its volume (about an hour)
Divide dough into 4 equal parts, roll it out, cut into tree shapes.
Put the first tree on a baking sheet lined with parchment paper, cover with Nutella, then put the second tree on the first and spread with Nutella. Repeat with the third tree then lay the fourth on top.
Cut strips into the dough tree and roll each strip individually.
Leave it rest for 30 minutes, preheat the oven to gas mark 4, 180 °. Brush with milk
Bake for 30 minutes.