I've wanted a 'Voltaire' chair for years since the first gite we stayed in where I had a gorgeous recovered one that I sat by the fire to
and
. I haven't wanted to spend a lot as I have no idea if I will be any good at doing it or if I'll make a big mess. I was super excited to spot one this week for only €30
(they can be towards and well over €100 even for one to renovate). I thought from the original photos that it was probably a repro' one from early to mid 1900's but when J bought it home last night it was in fact a proper old 19c one
It is super comfy, in super condition, the fabric isn't to my taste but livable with until I find the fabric I want to recover in and the time of course
Apparently from the research I've done it is a pretty huge job with generally around 700 pins / staples (guessing not on mine due to age) to pull out before you do anything else! I'd like to probably do some sort of neutral linen fabric and I was thinking of doing the wood in antique white with darker wax to bring out the details on the legs. I'm not not sure given the age of it if that would be a sin to paint it! Anyway not something I have time to do immediately so I have time to ponder and decide what I want to do fabric and wood finish wise.
Oscar thinks we bought it for him! It is actually incredibly comfy which is very cool!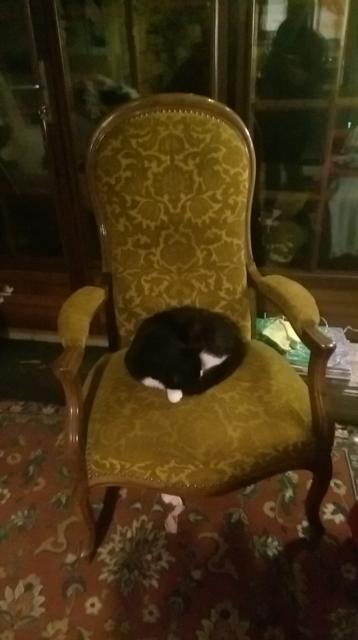 This is the sort of thing I was thinking of doing in terms of paint effect:
Or maybe with a bit more grey than that one:
J and I just talked and he doesn't want me to paint it as the wood is lovely and properly old so I guess that is decision made!
It still looks OK with the wood too - would just need to keep the fabric light I think and my wood isn't this dark so would not make it darker than it is - maybe just a clear wax or something:
Cleaned up it is more htis colour I'd say (how lovely are these chairs!):
So there you go! Watch this space!