My ticker is telling me that I'm going to have a baby in 11 weeks time
so I thought I better see if I have enough nappies so I finally got around to getting out all of my NB and small stash. so this is what I have: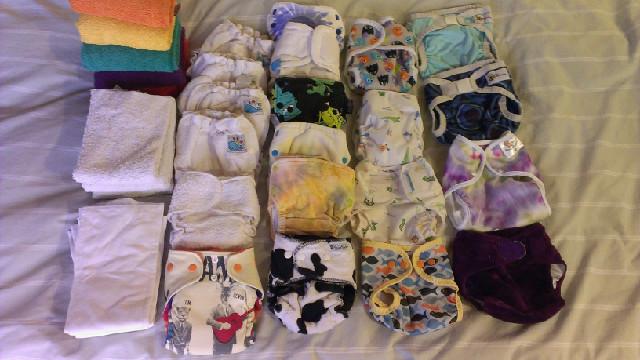 From left going down:
6 Bright Bots terry squares (must find the blue one I think it is in with the hand towels
)
5 NB Terry squares
4 prefolds (small size I'm pretty sure)
4 Sandy's NB
1 Bimble
1 Home made fitted
1 Fitted (not sure)
1 Ellas house hemp
1 WeeNotions
3 others (not sure what they are - will update when I next go upstairs!)
1 NB/sm Coolababy
1 NB pocket nappy
Wraps:
1 XS Mother Ease Rikki
1 NB homemade
2 Baby beehinds
1 Nature babies small (not sure if this will fit straight away?)
1 Blueberry wrap
I also have some wool, must go and work out what is there!
So I think I'm almost there for small as it is summer here so everything will dry really quickly
maybe just a few more
!