Manufacturer: Upsy daisy
http://www.upsydaisynappies.com/
Nappy Name: Night Nappy
Type of Nappy: Night nappy or very heavy wetter
Fastener: Side snap
Material: Bamboo .
Size: Large but they do it in medium and small too.
Reliability: 10/10
Absorbency: 10/10
Cuteness: 10/10
Drying Speed: 7/10
Slimness: 7/10
Value for money: 9/10
Overall Comment: Absolutely Fabulous!
Comments:
I had been thinking of trying one of these out for a bit as UD fit ds really well. As soon as I saw the LLS outers I couldn't resist. Here's ours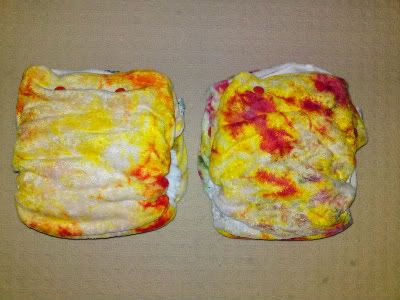 It is a gorgeous looking nappy and sooooo soft and squishy! The outer is bamboo velour as is the inner.
Positives:
This nappy actually exceeded my expectations I am pleased to say. Not only is it gorgeous to look at but it actually works at night for my heavy wetting ds
. I gave this only one pre-wash before using it at night and we had no leaks at all! The fit was fantastic especialy round the legs and the pocket on it is nice and big for stuffing. It comes with two snap on inserts and all I added was 2 bamboo and a mf booster. There was plenty of room for more in the pocket if we needed it.I can only imagine this will get better with more washes and the absorbancy is up to scratch.
Negatives:
As this is bamboo it is pretty slow to dry compared to my other NN's. Has been taking at least two days atm. Also it makes for quite a big bum at night (nowhere near what we used to have) due to extra stuffing in there but it doesn't make any difference to the fit. The particular ones I have are quite expensive but you do get a stunning outer for you money. You can get plain outers which are much cheaper.
Overall:
I am so impressed I have bought another. I am glad I tried one as it was worth it for another NN that works for ds. I definately reccomend you try one!