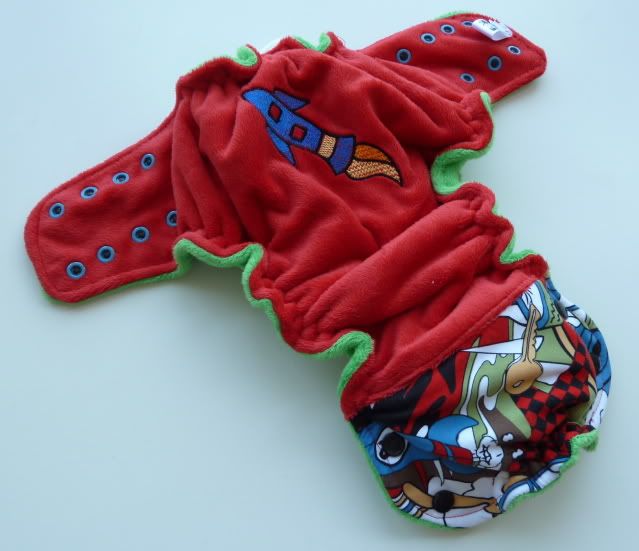 Manufacturer: Tweedlebee & Tweedlebum (US based WAHM)
Nappy Name: Fitted
Type of Nappy: Day nappy
Fastener: Front or side snaps
Material: Bamboo fleece internal layers and soaker with a choice of minkee or bamboo velour inner
Size: Small, medium or large
Reliability: 10/10
Absorbency: 10/10
Cuteness: 10/10
Drying Speed: 7/10
Slimness: 8/10
Value for money: 10/10
Overall Comment: Highly recommended
Detailed Comments: These nappies are simply fabulous. There is a wide choice of fabric available - really gorgeous cotton prints and plain and dotty minkee, with lots of embroideries to choose from, too. You can choose a plain minkee outer, front and/or back cotton border cut, and/or embroidery.
As well as being gorgeous, the absorbency is excellent. My medium wetter can easily wear one for 3 or even 4 hours before they are soaked through, and they are really reliable; we haven't yet had a leak as they fit him really well. We chose side-snaps, but front-snapping nappies are also available.
They are priced very competitively, starting at just $15 at the time of writing for a plain minkee outer nappy. With extras of border cuts and embroidery, they go up to approx $25-30.
I should note that the two heavy soakers are attached to each other, then to the main body of the nappy, with a single snap on each. This proved too heavy for the nappies and the snaps broke on the first wash. I have contacted Samantha to advise her, and would strongly advise that the soakers are unsnapped before each wash.