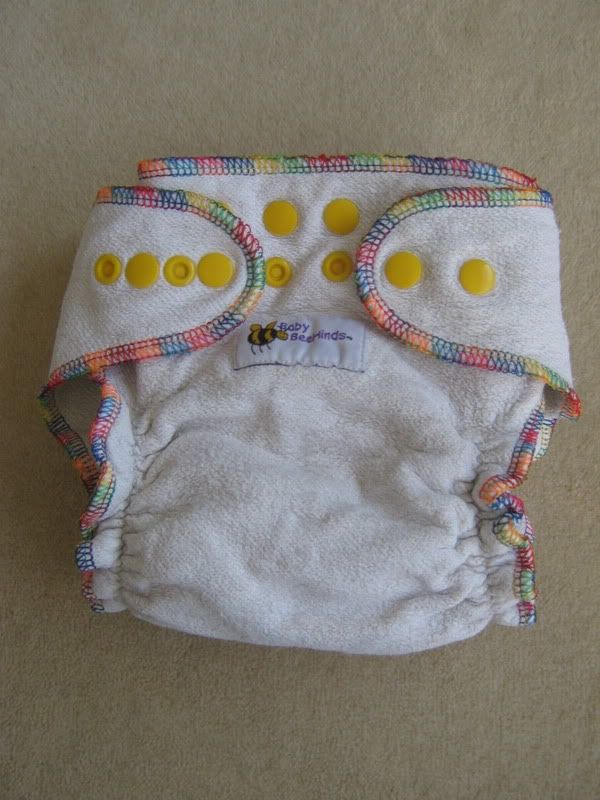 Manufacturer: BabyBeehinds
Nappy Name : Bamboo/Hemp One Size Fitted
Type of Nappy : Fitted
Fastener: Poppers
Material: Bamboo/Hemp
Size: Onesize
Reliability: 10/10
Absorbancy: 10/10
Cuteness 8/10
Drying Speed: 8/10
Slimness: 8/10
Value for money: 10/10
Detailed comments:
I am writing this review for both the bamboo and the hemp versions of this wonderful fitted nappy, as I have both rate equally high by my standards.
Trim fitting and very adjustable this truly is a birth to potty. They come with a large and small snap-in booster which you can use either of or both together. Gently gathered legs make for brillient containment. My first buy was a lovely off-white colour with rainbow trim which I thought was gorgeous enough until I descovered that they come in a whole rainbow (bamboo version) as with all fitteds though its a shame you don't see much of them as they go under a wrap, but these nappies perform extremely well. On a first use without pre- washing you can expect around 3 hours dryness, but once they reach their peak they make the perfect night time nappy, going 12 hours without leaking and moisture is drawn away from babys bottom into the very thirsty fabric.
The bamboo version is generally more silky to the touch and retains its softness after washing and drying, whereas the hemp needs to be softened. Some may recommend putting them in the dryer to soften, however in keeping with the eco-ness I find that just rubbing them over the bar of a clothes airer a few times softens them up great, and if that doesn't work a wash with some bi-carb and white vingear deffinately will
The drying time is not so great, however when you weigh it up against how well they perform its not that significant (too me anyway) I'd rather have a great nappy like this that takes a while, than have a good one that has a speedy drying time. 'Good things come to those who wait they say' lol.
These coupled with Nature Babies Classic wraps make the perfect night nappy for my heavy wetting baby