Ok so I thought I would start this post now so I remember in the morning to write it. So we have never used wool before so winning the competition I've done some research.i have fancied trying it and was doing to knit some but then thought it sounded to complicated. Well after a little message from Ali I feel confident. So I've taken the bull by the horns.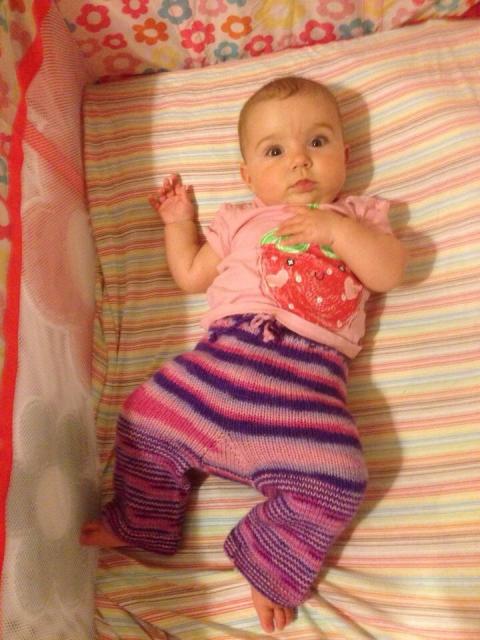 I put a booster bamboozle underneath the longies and a tshirt on dd. I'll update later...
Manufacturer:little pants
Nappy Name: Alpaca Longies
Type of Nappy: n/a
Fastener: cord
Material:Alpca wool
Size: small
Reliability: 10/10
Absorbency: n/a
Cuteness: 10/10
Drying Speed: not washed it yet so no idea
Slimness: n/a
Value for money: 10/10
Use: nappy wrap
Overall Comment:
Fabulous!
Detailed Comments:
Oh my god wool is amazing. I was a bit worried how this would work but dd didn't leak and her legs were nice and warm. The fit is lovely and the colours are great. I was concerned it would stink in the morning but I was surprise to find it didn't stink. Wool really is magic, I expected it to feel damp but it doesn't. I can see me needing more wool wraps.
I'll update when I relanolise it to let you know if it is easy.