I've been eyeing up this table for a while with the idea of giving it a shabby beachy make-over.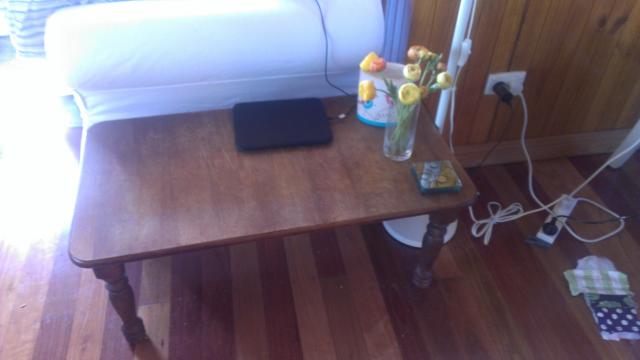 I've read heaps of blogs showing lots of lovely ideas and tutorials on various ways (well actually about 3 billion and 82 it seems!) to acheive the shabby distressed look. I already have my genuinely shabby table that was mums and I have sat at since I was a little girl then found some 2nd hand but almost new distressed dining chairs that go well (I must post pics actually I did some a while ago when I got my new dining chairs but dont' think I posted them yet).
So I headed to the hardware store a week or so ago and picked up some supplies to get going ( I got small of everything as I wasn't sure if I'd bought the correct items or if I'd want to try something else). I got them to mix me up an antique white paint, some walnut stain and some clear mat varnish to seal it: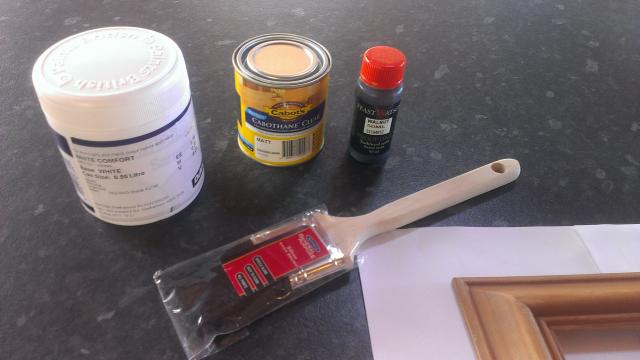 The paint colour was Dulux 'white comfort' it would be so easy if I lived in the states as that is where most of the tutorials come from and they tell you what colour to get but I had to make a decision myself
! The guy in the shop was actually really helpful (I was wandering around looking for something actually called 'Antique White'
and couldn't find it!). I hope it is the right colour!
I decided I didn't want to ruin our perfectly good side table by jumping in gun ho so I found this old frame that had a daggy twee little bear picture in it from when I was a teenager! Louis has recently done a funny piece of art so I thought it would be good in this frame but didn't like the 90s pine look so putting 2 and 2 together I thought this would be a perfect practice project! First step was give it to Mr CM
who took off all the hooks, glass etc and handed it back as just wood ready to go (I didn't get a pic of this bit!). Next step was to give it a light sanding down to get rid of 20 years of hanging around grime and to give the paint something to hold onto!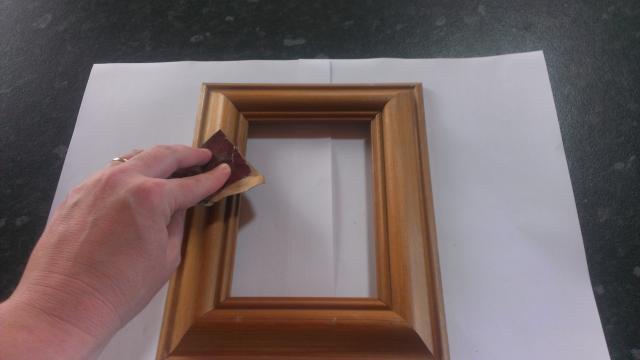 I was careful to get into all the little indents: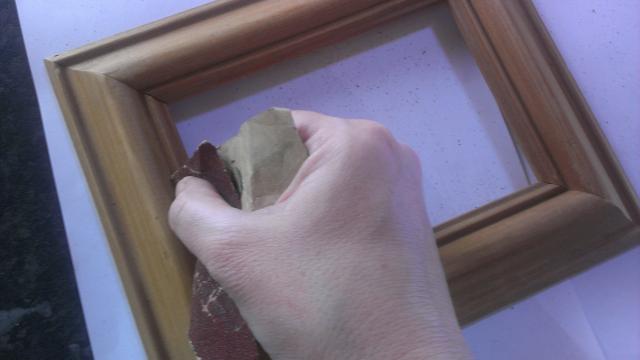 Next step I gave it a good brush down with a soft brush and then a microfibre cloth. Many of tutes that I read actually recommended to wipe with a damp cloth and allow to dry. I was too impatient for this step and it seems ok I only missed a few speks of dust but I think for the table I'll be good and do that step!
Here is the paint open - I think it is right
it is that soft antique white that I love so I'm hoping it all works for me!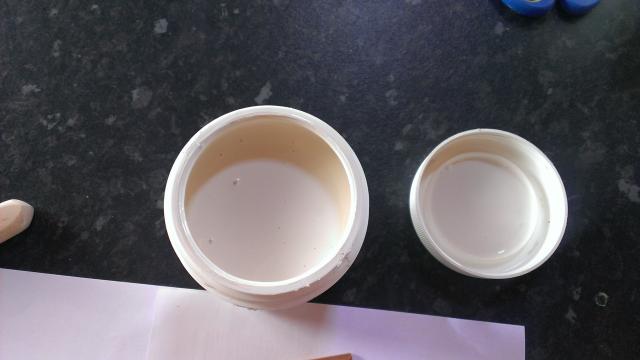 I gave it the first coat of paint as it was, to be honest I think it was a bit thick, perhaps I didn't work quick enough or perhaps my brush is rubbish but it isn't as smooth as I'd like. I wasn't going to bother with a 2nd coat on this but I think I'll do one to test out watering the paint down a little. I bought water based paint, stain and varnish as I hate cleaning brushes in turps
. Now I'm waiting for it to dry
I hate this bit - thank goodness I can come and post to help pass the time!
It says 2 hours but it is in the sun so I'm thinking I won't need to wait that long!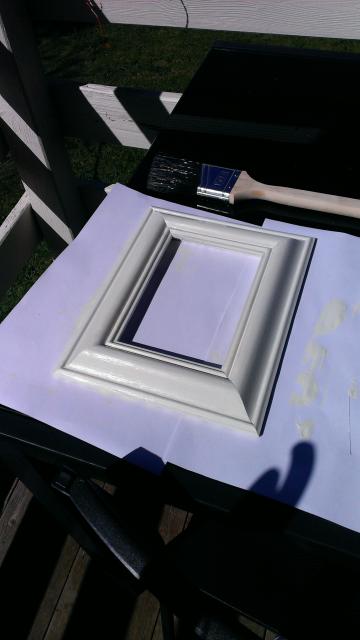 Here is the frame after some light distressing with some sandpaper: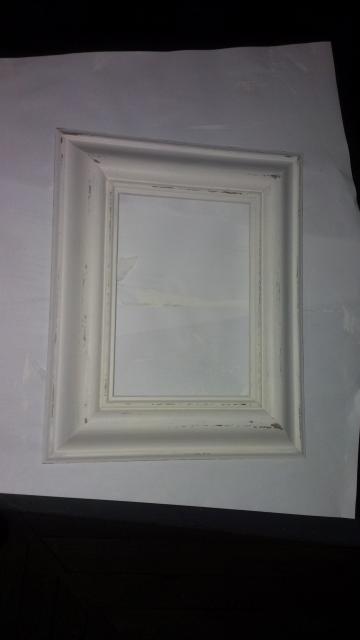 Oops not great light but you get the idea!
So this afternoon I got all the bits together to do the stain layer, from what I've read from my research the idea is that you brush on a really light layer then wipe it straight off to leave a light layer that gives the aged look to your project. I wasn't sure what I'd need so I hit the cheapy shop and got some various brushes and foam brushes: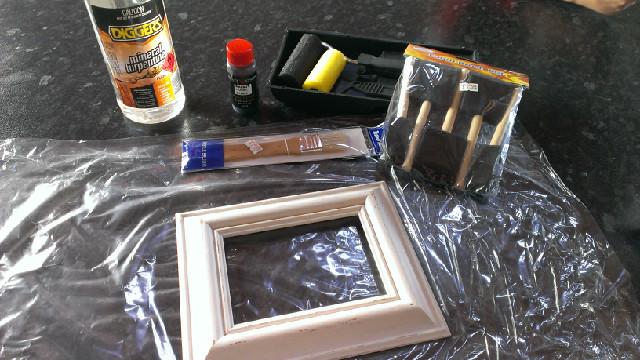 Thank goodness I did a test patch on the back - DISASTER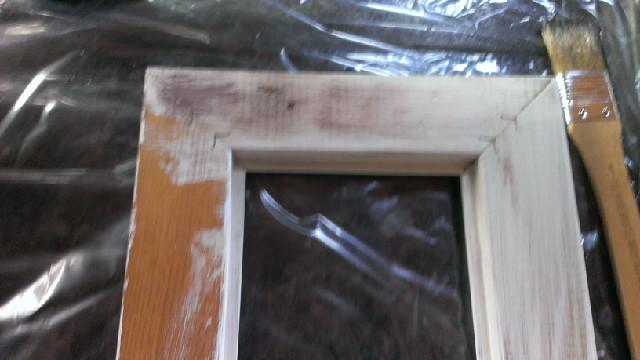 It didn't work at all - the left darker patch was straight and wiped straight off and the lighter one was mixed very very weakly and it is still awful and not the thing at all
so that little pot of stain was a total waste of money! I'm just so thankful that I was smart enough to do it on the back of the frame so I haven't ruined it and thrilled it wasn't the table that I ruined (it was entirely possible that I could have decided to jump right on in and wing it - I don't often do swatches either
).
I decided to give it a go just with the sealant as we were both quite happy with the look, when I opened it it wasn't what I expected at all, I expected a clear thin product and it was thickish and milky coloured. When I put it on it seemed to pick up colour from somewhere, perhaps the brush touched the back and got a bit of the stain or perhaps it got it from the wood. Anyway result is that it has a slightly yellow tinge - not sure I love it - on one hand it does age it a bit but on the other hand I dont' want it to look yellow!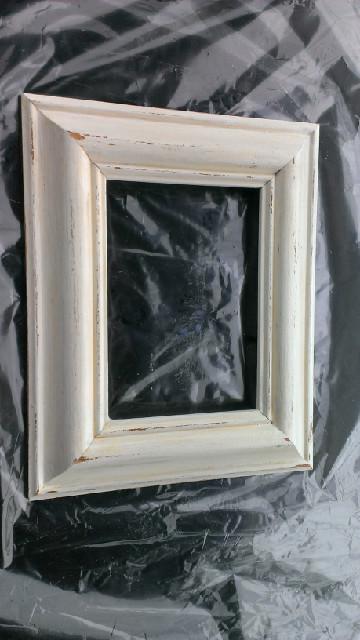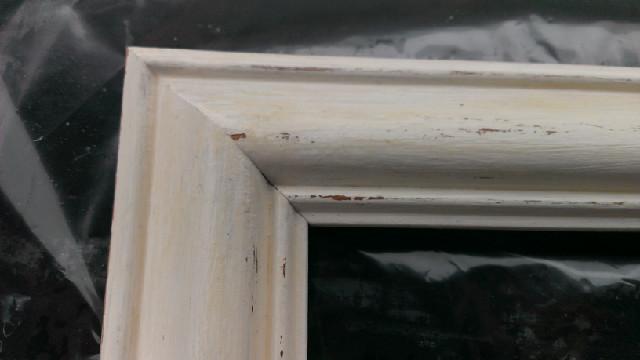 What do you think? Is it too yellow? Should I try another product (there were other options like wax) or do you think it will be OK on the table?