I love that we have discovered DIY dishwasher powder, especially as I read more about the chemicals that are added to the stuff I've been buying for all these year
(I'll try to do a bit more research and write a bit more about this when I get a chance)! However I'll admit I'm a bit lazy
and tablets seem easier than powder and are what I'm used to so I have been on a mission to make some!
I had a good look around the web and all the tablets seem to have the same recipe so this is what I used: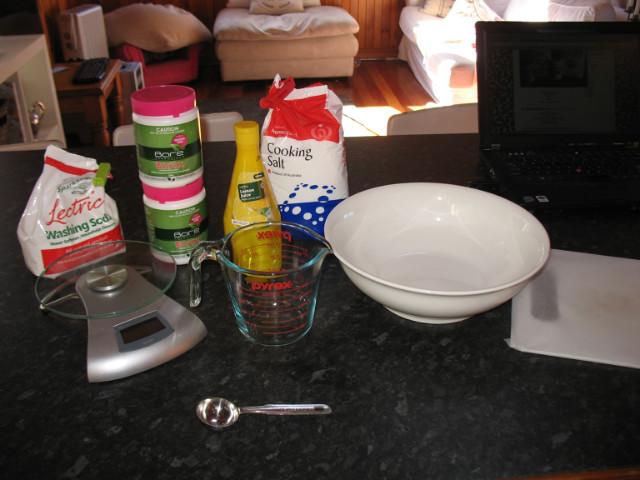 1 Cup of Borax
1 Cup of Washing Soda
1/2 Cup Epsom salt (I didn't have any of this so have just used normal cooking salt - I think they are slightly different compounds so I'll have to do some experimenting and see if it makes a difference on subsequent loads)
3/4 Cup of lemon juice (the cheap stuff in the bottle is fine )
Mix all the dry ingredients together
Next step is to make your tablets - you need to make sure that they fit in your dishwasher, I kind of measured my tablespoon measure and I think that size will fit so I started off making them in semi-ball shapes like this:

I then decided that I want pretty tablets so I grabed my nearest ice-cube tray and did this:


I was expecting around 22 tablets from what I'd read when doing my research but those little balls just kept coming:

I then went really wild and added a bit more juice to the last bit which was getting a bit dry and made some little rectangular ones ending up with a total of 36 tablets! I'm hoping they are big enough - I read that they need to be a tablespoon minimum and that is what these are (although the icecube ones may be a little more) so I'm looking forward to seeing how they go and making them a bit bigger if I need to next time.

They are currently drying in the sun by the window but are already pretty hard, I'll leave them out about 24 hours then pop them in a big jar

So I'm impressed - cheaper and better for our health and the environment (bit like cloth nappies really
) my results with the powder we made last week have been good so far so I have high hopes! I'll update once I've had a wash and also if I end up trying new recipes.
I'll work out the costs and update as well.
Let me know if you decide to give them a go and take a pic for me
ETA here they are in a big coffee jar: