Bumgenius XS (6-12lbs)
http://www.bumgenius.com/all-in-one.php
Reliability: 7/10
Absorbancy: 6/10
Cuteness: 9/10
Drying Speed: 8/10
Slimness: 9/10
Value for money: 6/10
Overall Comment:
Very cute, dinky sized all in one, that anyone could put on a baby with their eyes closed!
Detailed Comments:
These are lovely little nappies that fit tiny baby bottoms perfectly. They are soft next to baby's skin with a suedecloth lining and microfibre core.
As they are so small, they don't have a huge amount of absorbency, but as you have to change newborns so frequently they last as long as they need to (I'd say max 2 hours). They don't have an open end so you can't stuff them for extra absorbency.
These nappies are great as a first introduction to cloth nappies - a lovely present for new parents to be - as they are as close to a disposable as you can get.
They are, however, pricey. If you wanted to use these full time from birth, it would cost quite a lot of money to buy a full set (I'd imagine you'd need around 25!) which would only last til your baby was 12lbs, but good as part of a newborn stash and they are popular second hand.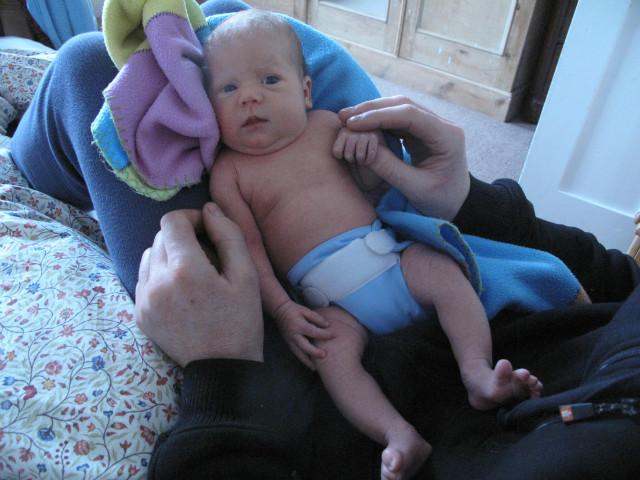 This photo shows my baby at around 5 days old after the umbilical cord stump had fallen off, born at 7lb2oz, and you can see that the nappy fits well.