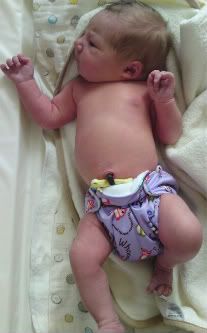 Manufacturer: Rumparooz (Kanga Care)
Nappy Name: Lil Joeys
Type of Nappy: All in one
Fastener: poppers
Material: outer - TPU, inner - micro chamois (fleece)
Size: newborn/preemie, 4 to 12lb
Reliability: 9/10
Absorbency: 8/10
Cuteness: 10/10
Drying Speed: 9/10
Slimness: 10/10
Value for money: 10/10
Overall Comment: Fabulous!
Detailed Comments:
We only got 2 of these before our baby was born and, had she been a bit smaller than 8lb9oz, we'd have bought more once we started using them. They're incredibly cute little nappies and are perfect for the 1st few weeks, especially before the cord has dropped off as they have a little snap-down at the front to hold the nappy away from it.
They have inner gussets, like the rumparooz pocket nappies, which help to keep in poo explosions and these seem to work well. They're also more absorbant than you'd think for such a small, slim-fitting nappy - though they don't get tested to the extreme with a newborn as they need so many nappy changes anyway. They could possibly increase the absorbancy, for the upper end of the weight, range by creating a pocket at the back so you could insert a small booster (eg little lamb bamboo) but this might affect the fit.
They dry pretty quickly, though I found it hard to judge when they had dried all the way through, being an aio.
These were my husbands favourites and he always reached for one when he changed her - no need for a liner, no pockets - just pop it shut and you're done so very good for a pair of novices and a sensitive newborn!
They would be better value for money on a smaller baby as you'd get more use out of them (we found they weren't so reliable over 10/11lb and moved onto btp pockets) but their resale value is excellent - I had people falling over themselves to buy mine!
Overall a great nappy for the early weeks and nice and slim fitting so a newborn isn't swamped by fluff!