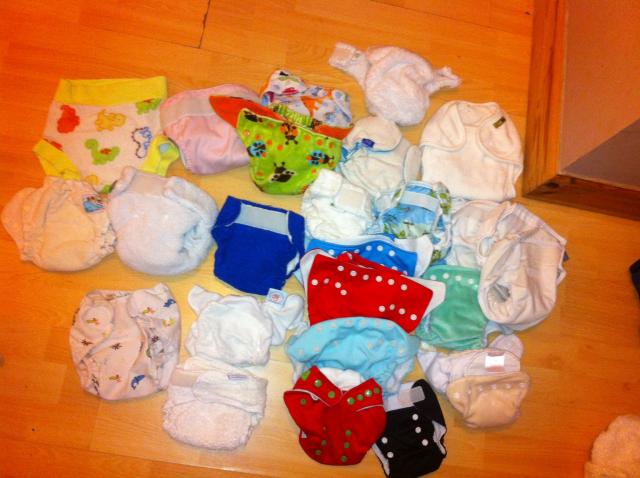 They're a bit scattered but Top - teddy nappy £2 euc size 1, second- medium fleece soaker vguc £3.80, pink small bumgenius £2, Dino and bug are blush baby both for £10 (only have one insert) size 1 eeeuc, Ella's house nappy size 1 £1.50 euc but a bit crunchy, I think the last one is a one life fitted never heard of it before 50p never used by me
Third- xs sandy £2.50 eeuc, happy nappy days aio size small £1 euc, ll bamboo size 1 vguc £1, frog wraps £1.20 each plain ones 90p each hardly used by me brought preloved all size 1. Under them are size small fuzzibunz (dark blue, 2 red 1 light blue also have a yellow one not pictured) all in vvvvg/eeuc £2.30 each, a mint itti size small eeuc £5.
4th - ocean wrap £1.20 used twice size 1, xs fitted never used but pre washed (needs a nippa) £1, ivory itti eeuc £5 size small.
5th row - xs-s fitted £1, red cheapy pocket guc small and poppers down to xs 99p, black small nappy poppers down to xs brought from Kingdom of fluff comes with newborn mf insert £1.10.
Please add postage and fees