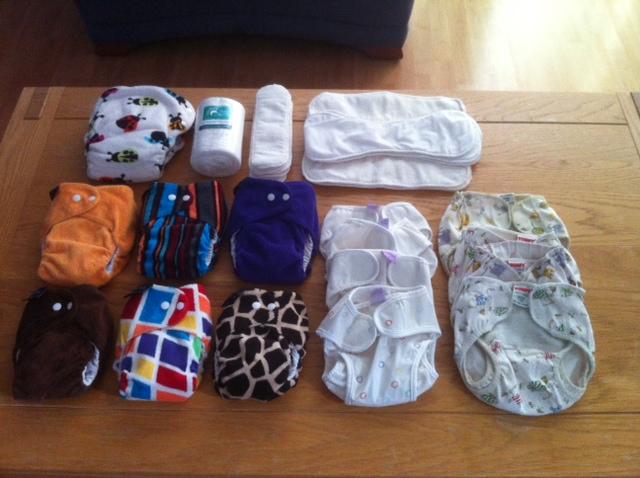 MMARO on any of these that are left as I need them gone!
Mini de-stash due to potty training and me making our own nappies/wraps, plus some random bits I found. There will be more to follow. All prices include fees, but add please postage depending on how many you'd like.
Top row:
Weenotions Night Notions, ladybird minky - missing the hemp fleece insert but has the bamboo + mf insert (I've used our own hemp inserts fine). Small tear to opening of micro fleece pocket, doesn't affect use, I can sew it up if required. - £7.50 SOLD
Totsbots liners, unopened roll - £2 SOLD
Itti bitti mini boosters, microfibre x 6, bit fluffy - 75p each
Large itti bitti d'lish extra snap-in inserts (trifold + hourglass) x 3 - some feint staining and some bobbling to top of hourglass - £3.80 each set. Also have 3x medium snap in sets, currently sunning.
2nd row down:
Large itti bitti d'lish SIO: orange (rock melon) and purple elastics bit slacker than they were, minky not as fluffy as it was - £5.50, eton elastics good, minky not as fluffy as it was - £7
3rd row down:
Medium itti bitti d'lish SIO : Elastics good, a bit of feint staining in some leg creases and on some inserts. £8.50 each for Gerry and Carnivale, £7 for brown
1st column:
Bambino Mio wraps, small, some light staining around leg gussets, velcro still sticky though greyed and bit fluffy - 75p each ALL SOLD
2nd column:
Imse Vimse Bumpy (night) cotton wraps, medium. Well loved, but still have life in them. Velcro isn't great, better on outer part of panel i.e. for bigger waist sizes. One has a slightly yellow hue from being washed with a yellow sports towel accidentally! 50p each