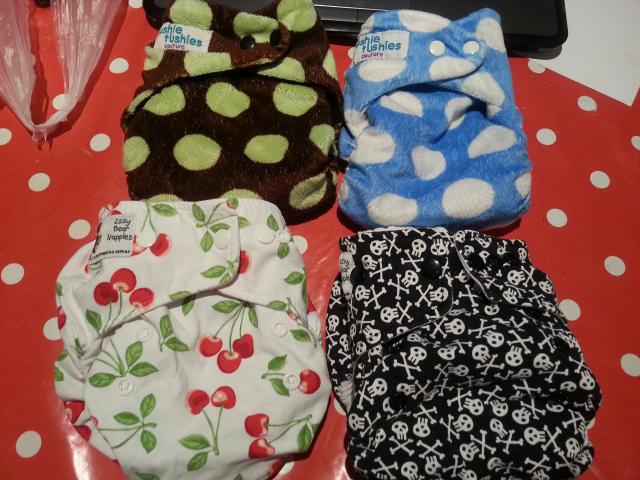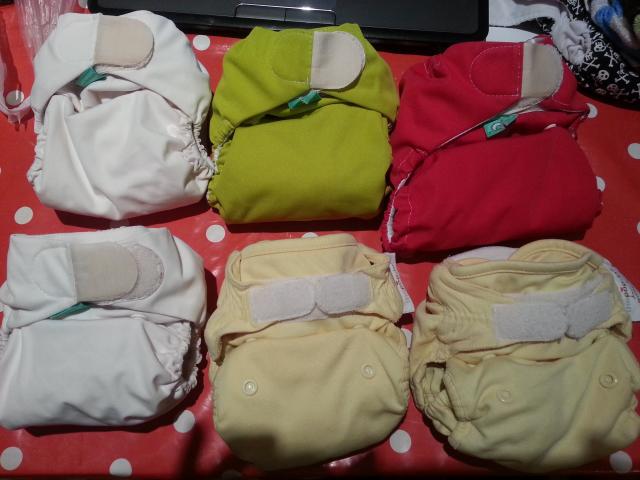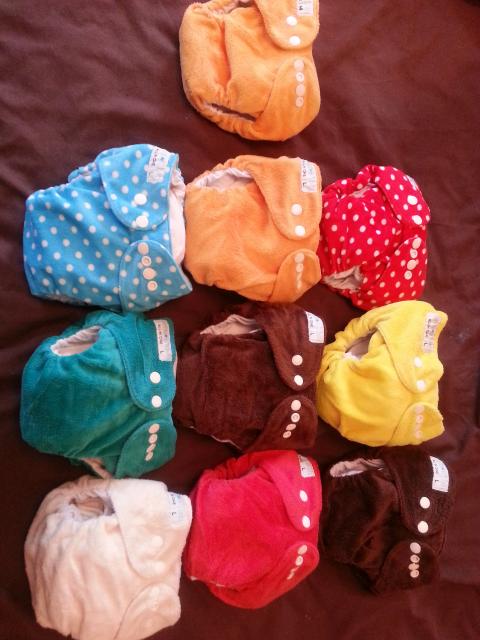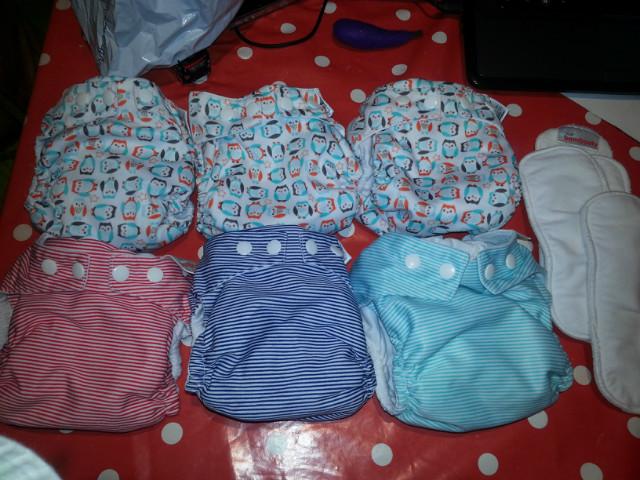 Hi there, i've TONS of nappies to clear out (DD1 potty trained from cloth, DD2 has had toddler diarrhoea for over a year and I've been waiting patiently to be able to go back to cloth but I've now given up!). I'm going to do a bit at a time to start with, so for now I'm going to put up these Bitti d'lish AiOs in Large, one orange is medium, and these Bambooty days in medium - one is large.
Bambooty: The aqua-marine stripes is large, all the others are medium, they are all daytime. No stains, fantastic condition, great elastic, hardly used! £8 each plus postage, will reduce costs for multiples. I have bambooty booster inserts too but should post them in separate section.
Bitti d'lish: The spots and the green are no longer available I'm sorry. They are all all-in-ones, excellent condition, soft and fluffy, no stains, good elastic. All are large except one orange is medium. I have boosters to go with them at an extra cost, i'll post these in the appropriate section when i get a chance. £7 each plus postage.
Tots bots easy fits (is that what they're called? I can't remember!), all in ones, birth to potty - red, green and 2 x white, all in very good condition - no stains, good velcro, the colours were bought as seconds, the elastic seems a bit looser than that on the whites but I don't know why because they didn't get much use. £5 each. pop-ins, birth to potty, velcro, one is euc, the other good - only because the velcro is a little more used, elastic perfect, insides look perfect. £5 each too.
Cushie tushies and issy bears: the cushie tushies are well used but still look brilliant and are in good used condition (brown and green comes with pop-in booster), the issy bears are gorgeous, my favourite nappies, birth to potty, poppers, the cherry one looks hardly used - I can't remember if I did use it! You can tell the skull and cross bones has been washed quite a bit but elastic still perfect, no stains etc, looks fantastic! I've three inserts for the issy bears - two day and one night, they will come with nappies - the first person to buy can have one day and one night and the second person for the other nappy can have one day. I've no idea how much cushie tushies and issy bears are worth these days I'll have to trawl the sites so I'm open to offers!
Please let me know if you'd like any, I can email more pictures if required.
Cheers
Marie