Price: £144.70 PayPal Costs: £5.81
Total: £150.00 + £15.00 p&p
---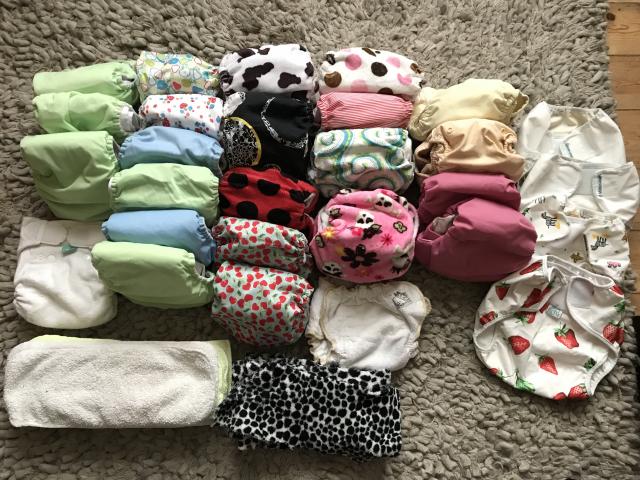 Large stash of nappies, some really unusual prints, a stack of inserts and homemade leopard print wipes.
All come from a smoke free, pet free home and ony ever washed in non-bio liquid. Velcro and elastic is in good condition on all the nappies.
Individual details and individual listings including more pics below:
Mini lala: black and yellow pattern comes with 2 x bamboo inserts
Cow print: comes with bamboo insert doublers
Ladybird Cushie Tushie V2 comes with two bamboo and fleece inserts
Issy Bear: blue/ green swirl and pink skulls. Comes with day and night inserts.
Red stripey Bambooty comes with two inserts which I think but cannot be sure are bamboo and fleece
Pink spotty Blueberry comes with double thickness bamboo cotton insert doublers.
viewtopic.php?f=59&t=125550
All the above in excellent condition
Totsbots Easyfit
2x super cute cherries
1 x toadstools
1 x apples and pears
viewtopic.php?f=59&t=125549
Bumgenius v3 nappies
, Elastic and Velcro still have lots of life in them.
Includes:
9x Velcro nappies
2x popper nappies : these are perfectly clean but have staining on the inside.
viewtopic.php?f=59&t=125548
Strawberry totsbots wrap
Animal print mother ease wrap
2x white mother ease wrap
Sandy' small bamboo nappy
Totsbots bamboozle size 2 nappy
viewtopic.php?f=57&t=125551

Two Close Parent Yellow nappies
Velcro is cosmetically worn (i.e. Has a fluff in it but the Velcro still works well) elastic is still in good condition
From a pet free, smoke free home and only ever washed in non-bio liquid.
Some staining to both, lighter yellow one has slightly more staining as shown in pictures.
viewtopic.php?f=59&t=125552