All prices are pre PayPal and postage. I'll consider all reasonable offers and am happy to discount for multiple purchases. So, here we go!
NAPPY WRAPS. I don't have pics of these atm but can provide if you're interested. Most are in barely used condition as I preferred the pockets. All £6 each unless otherwise stated
2 XS motherease airflow 1 animal 1 cream
13 XS white proraps prewashed only £7
1 XS bambino mio white
1 XS modern baby wrap with nappy. Rip under Velcro on cover easily fixable if you're handy with a needle. £8
1 NB Weenees wrap pink check prewashed only
1 NB Cotton Bottoms Andy Pandy pattern
1 size 0 tots bots wrap purple with white spots
3 S Weenees WRAPS white, blue check and yellow check
1 S swaddlebees pink (quite small though)
5 S popolino Vento dolphins
1 S popolino Vento dolphins elastic has gone £1
3 S motherease airflow 1 green 2 white
1 S weenotions wrap yellow fleece outer with flower embroidery on the bum
1 S bambino mio white with stars
1 M polar babies fleece wrap £4
5 M weenees 1 white, 1 yellow check, 1 pink, 2 green teddies
3 M popo wraps 2 cow print, 1 white
1 M cotton bottoms cream with coloured circles
2 M bambino mio 1 jungle 1 white
I also have 3 S motherease sandies plus a couple of thin ones and 2 S tots bots nappies, open to offers on these
POCKET NAPPY INSERTS
9 single length microfibre inserts £2 each. 1 folding microfibre insert £2. 1 unnamed microfibre insert with detachable hemp layer £5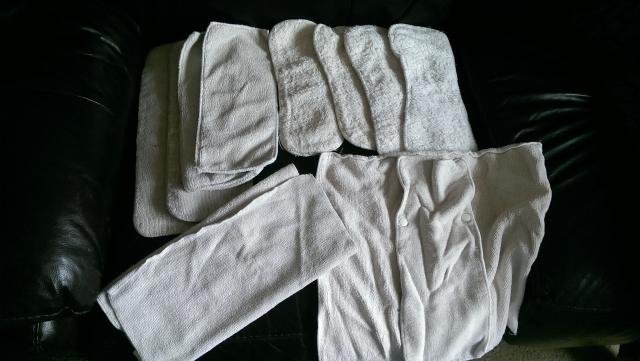 3 single length hemp babies and 1 single length nameless hemp boosters £4 each. 3 terry sized hemp babies inserts £5 each. 1 blueberry folding hemp/microfibre insert £3. 4 double length Ella's house hemp inserts £5 each
3 double wonderoo inserts £5 each
I have listed the pockets in these listings:
viewtopic.php?f=59&t=121852
viewtopic.php?f=59&t=121851
viewtopic.php?f=59&t=121850
Any questions please ask!