Hi, I'm Terry, I'm mum to Daniel who is 19 and Olivia who is 2 years old!
I make Keepsake Bears from childrens outgrown clothes, I've been making them as a more of a hobby and selling through friends and family for just over a year but have finally decided to be brave enough to try and start up as a business!
I make 2 kinds of bears, a traditional jointed teddy...
and a 'hare' bear...
Both bears can be personalised with the childs name and date of birth although space is limited on the hares!
I also sell Tooth Fairy Bears which are 14cm high bears made from beautiful soft flannel with a felt pocket on their tummy that a tooth can be tucked into and popped under the childs pillow... the pocket is big enough to fit coins upto £2 in - or a folded note if the 'tooth fairy' is feeling generous!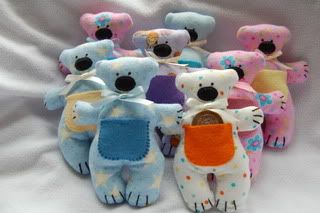 Tooth Fairy Bears can also be made to match the Keepsake Bears!
Prices are:
Bears and Hares - £35 each including personalisation
Tooth Fairy Bears - £6.00
Recorded Postage - £6 for Keepsakes and £2.50 for Tooth Fairies