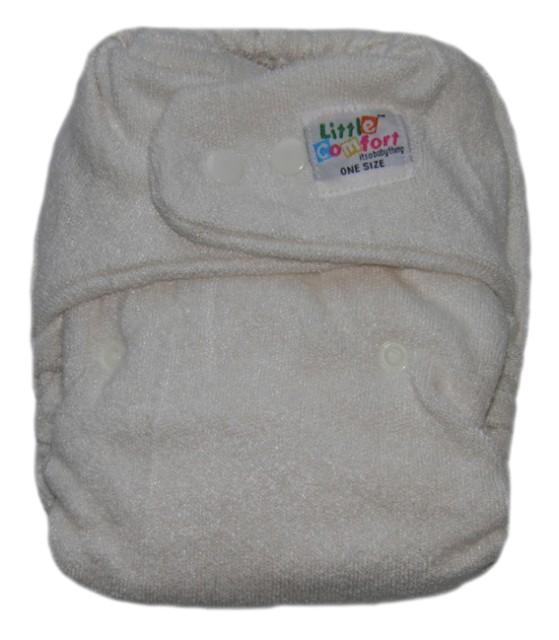 Little Comfort One Size Economy Bamboo Nappy
Quicker to dry light weight fabric very absorbent and very good nappy
ECONOMY - ONE SIZE Bamboo Nappy
Limited Edition
includes Two Boosters
Fabric: 80 % Bamboo Terry / 20% Cotton
Colour: Unbleached Natural / Cream
Size: Birth to Potty
Includes 2 Boosters: Size 1 and Size 2 both lined with fleece.

Limited Edition - Economy Bamboo Nappy
This nappy is the same design as our Luxury Bambee One Size Nappy, with a lighter bamboo/cotton fabric.
This One Size nappy fits from Birth to Potty. It contains 2 boosters, both a size 1 and size 2. When both boosters are snapped together it is suitable for night and very heavy wetting babies. One of the most absorbent and versatile nappies on the market. Extenders are available for babies that need those extra few inches around the waist. However we have found that only a handful of children have needed them out of thousands of nappies sold in this design.
You will not find a better fitting and as absorbent nappy.
http://www.littlecomfort.com/Little-Com ... cbmone.htm