Child's Aran Jumper by Faery Fluff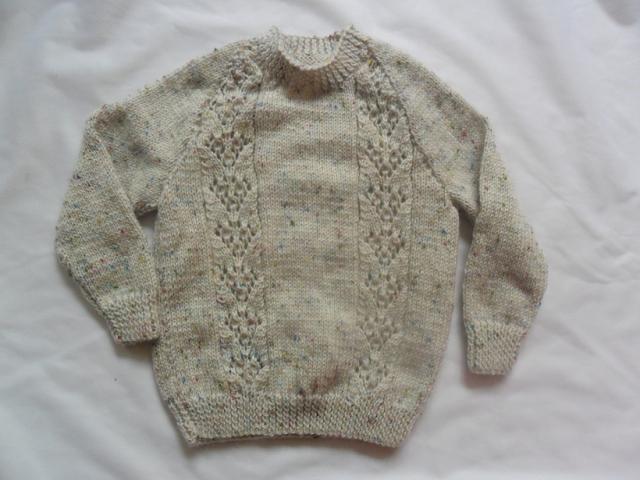 Childs Aran Jumper
Little Granny Knits!

My lovely granny heard about me knitting for my shop, and one day she handed me a bag of scrumptiously knitted baby cardi's and jumpers! I must admit she is a much better knitter than me, she loves cables and fancy patterns, and has many decades of experience to go into her perfect knitting. Half the proceeds from these items go to my favourite charity, Tinylife


These are one of a kind items, knit in soft acrylic baby yarn.
This cute little jumper is knit in natural coloured speckeled yarn (there are subtle flecks of blue, red and yellow in it) with various different stitches and cables. It has a high twisted rib collar and raglan sleeves, with twisted rib cuffs and hem.Knit in stocking stitch with heart lacework on front. There is a button closure at the neck. Beautiful jumper, ideal for either boys or girls! Actually knit in DK yarn (not aran) but it suits the pattern very well.


Size 2yrs (Please check measurements required!)

Chest 23"
Length (back of neck to lower hem) 15"


Arm inseam 9"

For further details or to purchase, please PM or leave a reply on this thread (I am quicker to respond to PM's) Price does not include postage but I can reduce costs if you are buying several items.