The award winning balm!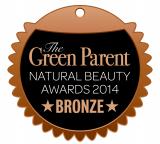 Greenabalm is an opulent product using the finest natural ingredients with luxury frosted packaing to match.There are four versions available all suitable from age 3 months plus can be used on any part of the skin. In addition NUDE can be used in pregnancy, on nipples while breastfeeding and on newborn babies Each is packed full of beautiful oils (Apricot, plum, coconut,) blended with a beeswax to a smooth moisturising balm.
NUDE- With no essential oils
CALM - With roman chamomile essential oil
ZEST - With sweet orange essential oilhj
BLISS - With Lavender essential oil
The price is £7 for 60ml or £10 for 120ml.
What testers say...
"Love the Greenabubs balm. Not sticky or greasy like so many others, soaks right into the skin, and gentle enough to be used anywhere. I even use it under my eyes as it's the only thing I've found that doesn't sting my super sensitive eyes. It's amazing! "- Joanne
"I love this balm. It feels lovely and smells divine. It's not thick and greasy but gentle on baby's skin. It's great on dry skin too!" - Bernadette
"We loved the balm . Really nice smooth feel to it , spreads really easily so a little goes a long way . It soaks into the skin really quick instead of just sitting on top of the skin and doesn't clog your cloth nappies up" - Hayley